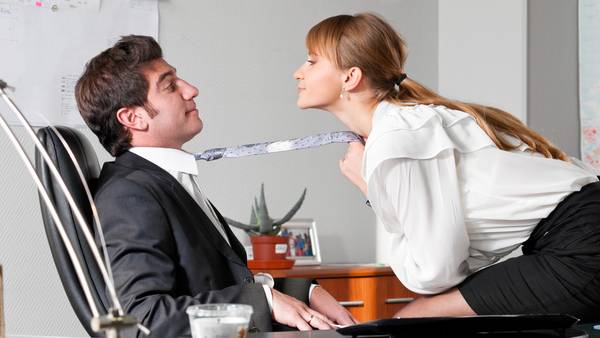 You're near each other five days a week. You flirt across the table at board meetings. It's been some time and this fantasy has been building in your mind. Do you know if both of you want to take it farther. Before you go for it, how can you have a discrete affair at work?
Everyone loves to snoop and you will find fellow workers gossiping about you quickly if you aren't careful. But with a little cleverness you can fly under the radar and enjoy a hot, sexy affair with the coworker of your dreams.
Getting Started
You begin to develop a crush on a coworker, and it's all you can think about. Before you blurt out your feelings you must figure out how the revelation will be received. If you come onto a coworker but they aren't interested in you it can be considered as sexual harassment in the workplace, and that is not the goal! You want to confirm subtly that you are both looking for an affair before you directly discuss it.
Broaching the Subject
Office parties are more casual environments to reveal your attraction. Keep the conversation light. You will both have a chance to be more relaxed, and having a laugh and a drink makes the situation more social feelings. When you are both less inhibited you can mention the attraction. If your object of desire doesn't feel the same you can joke about it being the alcohol muddling your thoughts, and go back to being office pals.
But if you are both on fire for each other, your affair can begin! How will you do it?
The Discrete Approach:
Don't Be Obvious
Steal time together without developing a pattern. If you are keeping most of your affair away from home, don't settle into a routine of when you see each other, or your partner will get suspicious about your long lunches or nights away from home.
Don't Have Sex at Work
Avoid using untended rooms for sex or make out sessions. It will definitely get you gossiped about, and gossip can find its way to the boss's ears. Is your work affair worth getting fired for?
Don't Use Work Emails for the Affair
They can be checked by your employer, so be careful. They can also be read over your shoulder, and someone can hack into your emails to spread them around in the office.
The Throw Caution to the Wind Approach:
Have at it however you please! Have sex at work when you can sneak away, use your work emails to be naughty, and gossip about your hot sex with that flirt from the next cubicle over. Plenty have tried it and many have gotten away with it. If half the fun of the affair is living dangerously, go for it.
No matter what you do, keep your wits about you as you embark on your work affair. You're in for a hot time!