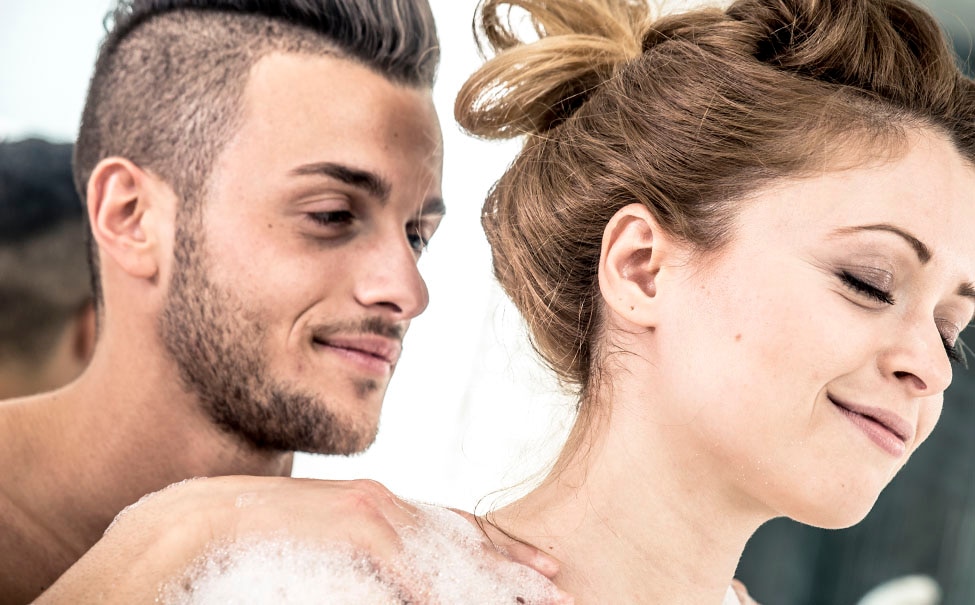 Are you wondering 'does your partner like massages?' Then the answer is most definitely yes! What could be more appealing to him than feeling his girl's soft hands caressing him in all the right places as he relaxes and unwinds?! The good news is, sensual massage isn't difficult to learn, which means you could be using the best techniques on your man in no time at all. Read on to find out how to give massage to your boyfriend.
Mastering sensual massage
As long as you have the desire to treat him to a massage that will make him feel absolutely sublime, you don't need any special training. If your boyfriend is coming over soon and you want to give sensual massages, these tips should go some way to ensuring you hit the spot and leave him wanting to more.
#1 Dim the lights
Harsh lighting is a no-no for a sensual massage. It won't help either of you to relax and doesn't exactly set the mood for intimacy. Dim the lights to create a soft ambiance or turn the lights off altogether and light some candles. Just be sure not to forget about them if you get distracted!
#2 Add soft music
Now's not the time to play your favourite rock band. Instead, choose soft music that will help you both to chill out. Meditation music is a good choice and can be downloaded easily online. It will create a warm atmosphere that will enable him to relax whilst you get busy making him feel incredible.
#3 Use essences when massaging your partner
When you're massaging your partner, don't be afraid to use fragrant essences or oils. This will make the room smell pleasant and help to relax him. The last thing you want when you're giving your boyfriend a massage is for his nose to be filled with the scent of dirty washing, so think carefully about the smell in the room.
#4 Don't head straight for the erogenous zones
One of the best massage techniques for him is to avoid heading straight to his erogenous zones. Even if you're trying to turn him on, it will be much more effective if you start massaging elsewhere, up their neck, arms and upper back. This will warm him up and get him excited about what's to come!
#5 Use the Shiatsu technique
When thinking of massage ideas for boyfriend, it makes sense to start with the Shiatsu technique. This is because it's by far the easiest massage technique for people who don't have much experience. It involves using your thumbs and applying firm pressure to the body. It requires you to press, knead, stretch and tap whilst moving your thumbs circularly.
Now you know the best massage tips for men, there's no excuse not to treat your man to the best sensual massage he's ever had! Invite him round, dim the lights, put on some soft music and let your hands do the talking!